This page was exported from All Collection of Braindump2go Free Resources for All IT Certification Exam [ http://cert-collection.com ]
Export date: Sun Mar 24 9:22:43 2019 / +0000 GMT
2018/November Braindump2go 300-370 Exam Dumps with PDF and VCE New Updated Today! Following are some new 300-370 Real Exam Questions:
1.|2018 Latest 300-370 Exam Dumps (VCE & PDF) 147Q&As Download:
https://www.braindump2go.com/300-370.html
2.|2018 Latest 300-370 Exam Questions & Answers Download:
https://drive.google.com/drive/folders/0B75b5xYLjSSNdGVBOXFERG9OSFU?usp=
QUESTION 116
An engineer is troubleshooting reports from a Cisco 7925 user that is experiencing consistent gaps in audio when roaming from one area of the facility to another. Packet analysis shows that the phone is flapping between two access points due to poor SNR.
Which action fixes this issue?
A. Add access points to the areas that have a noise floor below -90 dBm.
B. Adjust the roaming threshold of the WLC to -67 dBm for improved access point performance.
C. Use coverage hole detection to allow the access points to compensate for the poor roaming.
D. Redesign the area for sufficient overlap with access points running at reduced power levels.
Answer: C
QUESTION 117
Which modulation, which was introduced in 802.11ac standard, influences end-user experience by providing the highest data rates and throughput?
A. 256 QAM
B. QPSK
C. 16 QAM
D. 64 QAM
Answer: A
QUESTION 118
An engineer is troubleshooting why a MAC address was not listed in the MAC table and discovers that the VLAN was enabled only on the interface that data is coming in on. Which change fixes this problem?
A. Enable outgoing interfaces.
B. Disable sticky MAC on the access switch.
C. Remove loop detection on interfaces.
D. Flush the MAC address table.
Answer: A
QUESTION 119
Refer to the exhibit. Which two statements about the WLAN are true? (Choose two.)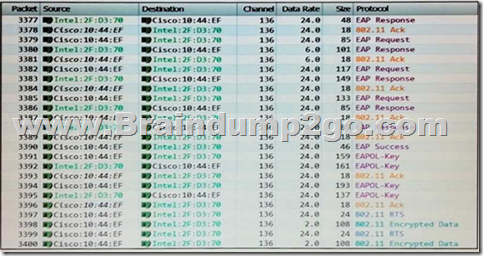 A. 802.11b data rates are disabled in this WLAN.
B. The Cisco device is a 3600 series AP.
C. The client is 802.11n capable.
D. The client has authenticated.
E. The client has a 5 GHz connection.
Answer: CE
QUESTION 120
An engineer has discovered that a number of new access points are failing to join the wireless controller module that has been recently enabled on a switch stack of three Cisco Catalyst 3850 switches running 3.02.03 SE version of Cisco IOS-XE. All cables have been verified and all access point switch port configurations are identical.
Which options is the likely root cause of the issue?
A. Stacked Cisco Catalyst 3850 switches only support 100 CAPWAP termination licences.
B. Cisco IOS-XE version 3.02.03 SE supports only access points on the master switch.
C. The EULA has not been accepted on the switch wireless controller module.
D. When stacked, the Cisco Catalyst 3850 cannot use the wireless controller module.
Answer: D
QUESTION 121
Refer to the exhibit. What is the highest mandatory rate in Mpbs configured for the AP?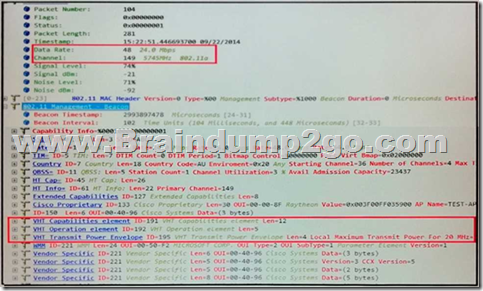 A. 54
B. 36
C. 24
D. 48
Answer: C
QUESTION 122
From the WLC GUI, which RRM setting do you configure to avoid non-Wi-Fi interference?
A. Coverage
B. TPC
C. General
D. DCA
Answer: D
QUESTION 123
In a high-density deployment on a customer site with ID 339696181, how do you mitigate the cell size in a large coverage area?
A. Disable ClientLink on the WLC.
B. Set a high supported data rate.
C. Increase the power of the AP.
D. Set a high mandatory
Answer: C
QUESTION 124
You install a WLAN in a warehouse environment for a customer. three months after the installation, the customer reports that the devices in the environment show a poor RSSI is some areas.
Which option is a possible cause of the issue?
A. an increase of stock in the warehouse
B. an increase in the number of wireless clients
C. RF interference from external sources, such as microwave ovens
D. another WLAN installed in a neighboring warehouse.
Answer: A
QUESTION 125
A training class has 15 laptops connecting to the WLAN using the same Active Directory training credentials.
Users report that they cannot connect until someone else logs off. At any one time, only half of the class connect to the internet.
Which option must be checked first?
A. Maximum Allowed Clients
B. Client Exclusion
C. Co-channel interference
D. DHCP address pool
Answer: A
QUESTION 126
Refer to the exhibit. An access point joins the secondary wireless controller but not the primary wireless controller. Another access point has joined the controller and is working fine. The network engineer can ping the wireless controller and the access point from the core switch.
Which option is the cause of the issue?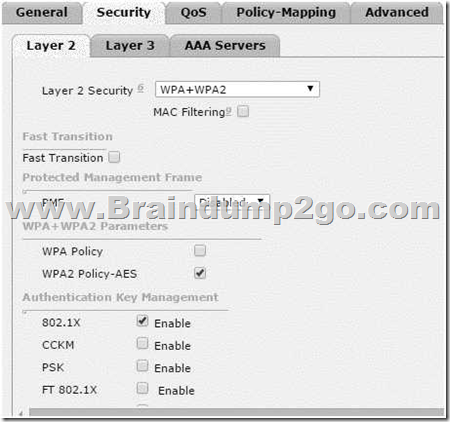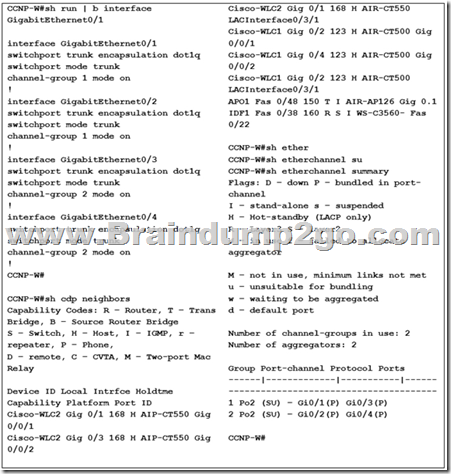 A. The trunk ports are missing a spanning tree configuration.
B. The EtherChannel configuration is incorrect.
C. The port channels configured with the wrong negotiation protocol.
D. The trunk port configuration is incorrect.
Answer: B

---
!!!RECOMMEND!!!
Powered by [ Universal Post Manager ] plugin. MS Word saving format developed by gVectors Team www.gVectors.com